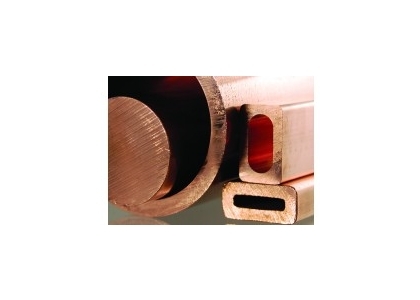 C11000 ELECTROLYTIC TOUGH PITCH (ETP) COPPER
Product Code : C11000
Price And Quantity
Unit of Measure

:

,
Product Description
C11000 Electrolytic Tough Pitch (ETP)
Spec Equivalents: CDA 110 ETP, ASTM B124, ASTM B152, ASTM B187, ASTM B188, ASTM B272
The electrolytic tough pitch copper is the copper with high thermal and electrical conductivity. The products manufactured using this copper possess good corrosion resistance and soldering ability. The inherited fabrication qualities of the copper allows it to bend, drilled, soldered, riveted and to be fit in to almost any design specifications. This variant of copper has excellent hot workability.
Applications:
Electrical Industry
Telecommunications Industry
Architectural Industry
Antimicrobial Applications
Equivelent Specifications:

End Product

Specification

Bands, Projectile Rotating

MILITARY MIL-B-20292

Bar

ASME SB133, ASTM B152, SAE J461, J463

Bar, Bus

ASTM B187

Bar, Forging

ASTM B124

Bolts

ASTM F468

Brazing Filler Metal

FEDERAL QQ-B-650

Foil, Printed Circuits

ASTM B451

For, Forging

ASTM B124

Forgings, Die

ASTM B283

Nuts

ASTM F467

Pipe, Bus

ASTM B188

Plate

AMS 4500, ASTM B152, SAE J461, J463

Rod

ASME SB133, MILITARY MIL-C-12166, SAE J461, J463

Rod, Bus

ASTM B187

Screws

ASTM F468

Shapes

SAE J461, J463

Shapes, Bus

ASTM B187

Shapes, Forging

ASTM B124

Sheet

AMS 4500, ASTM B152, B694, SAE J463, J461

Sheet, Building Construction

ASTM B370

Sheet, Clad

ASTM B506

Sheet, Lead Coated

ASTM B101

Sheet, Printed Circuits

ASTM B451

Strip

AMS 4500, ASTM B694, B152, SAE J463, J461

Strip, Building Construction

ASTM B370

Strip, Clad

ASTM B506

Strip, Printed Circuits

ASTM B451

Studs

ASTM F468

Tube, Bus

ASTM B188

Tube, Welded

ASTM B447

Wire, Coated With Lead Alloy

ASTM B189

Wire, Coated With Nickel

ASTM B355

Wire, Coated With Silver

ASTM B298

Wire, Coated With Tin

ASTM B246, B33

Wire, Flat

AMS 4500, ASTM B272

Wire, Hard Drawn

ASTM B1, FEDERAL QQ-W-343

Wire, Medium-Hard Drawn

ASTM B2, FEDERAL QQ-W-343

Wire, Metallizing

MILITARY MIL-W-6712

Wire, Soft

ASTM B3, B738, B48, FEDERAL QQ-W-343, SAE J461, J463

Wire, Stranded

ASTM B8, B496, B470, B286, B229, B226, B174, B173, B172, FEDERAL QQ-B-575

Wire, Trolley

ASTM B47, B116
Chemical Composition:




Cu

O

Min/Max

99.90 min

Nominals

-

0.04
Fabrication:

Joining Technique

Suitability

Brazing

Good

Butt Weld

Good

Capacity for Being Cold Worked

Excellent

Capacity for Being Hot Formed

Excellent

Coated Metal Arc Welding

Not Recommended

Forgeability Rating

65

Gas Sheilded Arc Welding

Fair

Machinability rating

20

Oxyacetylene Welding

Not Recommended

Seam Weld

Not Recommended

Soldering

Excellent

Spot Weld

Not Recommended
Physical Properties:

Product Property

US Customary

Metric

Coefficient of Thermal Expansion

9.4 · 10 6? per °F (68-212 F)

16.9 · 10 6? per °C (20-100 C)

Coefficient of Thermal Expansion

9.6 · 10 6? per °F (68-392 F)

17.3 · 10 6? per °C (20-200 C)

Coefficient of Thermal Expansion

9.8 · 10 6? per °F (68-572 F)

17.6 · 10 6? per °C (20-300 C)

Density

0.322 lb/in3 @ 68 F

8.91 gm/cm3 @ 20 C

Electrical Conductivity

101%IACS @ 68 F

0.591 MegaSiemens/cm @ 20 C

Electrical Resistivity

10.3 ohms-cmil/ft @ 68 F

1.71 microhm-cm @ 20 C

Melting Point Liquid US

1981 F

1083 C

Melting Point Solid US

1949 F

1065 C

Modulas of Elasticity in Tension

17000 ksi

117000 MPa

Modulas of Rigidity

6400 ksi

44130 MPa

Specific Gravity

8.91

8.91

Specific Heat Capacity

0.092 Btu/lb/°F at 68 F

393.5 J/kg °K at 293 K

Thermal Conductivity

226.0 Btu · ft/(hr · Ft2 °F) at 68 F

391.1W/m K at 20 C
Sizes Available:

HOLLOW RODS

Min Bore Size 20 mm and Max OD 100 mm

ROUND RODS

8mm To 100 mm

HEX

10mm To 60mm

SQUARE

10mm To 60mm

FLAT

10mm Min Thickness and max Width 120mm

BILLETS

Up to 200 mm

INGOTS

As per Specification