C35300 Threaded Rolling Brass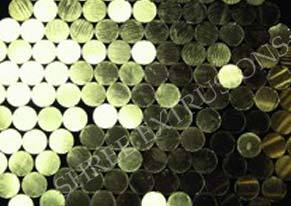 C35300 Threaded Rolling Brass
Price And Quantity
, Kilograms/Kilograms

480 INR
Product Description
As a quality centric association, we are successfully meeting the wide requirements of our customers by offering a wide gamut of C35300 Threaded Rolling Brass. The offered brass find its application in manufacturing home furnishing products, decorative products and many ore. It is manufactured as per international quality standards using superlative quality copper and zinc with the help of modern machinery. Available in numerous lengths and thicknesses to suit the specific requirements of clients, this C35300 Threaded Rolling Brass can be purchased from us at market leading rates.
Features:

Robustly constructed

Abrasion proof


Corrosion resistance

Fine finish

C35300 Threaded Rolling Brass
The C35300 Thread Rolling Brass is prepared using the inexpensive thread rolling method and is mainly used for cold forging processes. It is prepared in smooth and long threads and is smooth in finish.
Applications :-
Builders Hardware : Drawer Pulls, Hinges, Drawer Handles
Consumer : Bicycle Spoke Nipples, Clock and Watch Parts, Clock Plates and Nuts, Key BlanksFasteners: Nuts, Rivets, Screws
Industrial: Ratchets, Instrument Backs, Automatic Screw Machine Parts, Valve Stems, Pinions, Flare Fittings, Couplings, Bearing Cages, Channel Plate, Wheels, Gears, Adapters, Engravers Plate
Plumbing:Faucet Seats, Faucet Stems, Pipe Fittings, Plumbers Fittings, Plumbers' Brass Goods
Equivalent Specifications:

Specifications

Designation

ISO

CuZn37Pb2

Europen

CuZn37Pb2

JIS

CuZn37Pb2

Russian

CZ119
Chemical Composition:




Cu

Fe

Pb

Zn

Min/Max

60.0-63.0

0.15

1.5-2.5

Rem

Nominals

61.5

-

2

36.5
Specifications:

End Product

Specification

Bar

ASTM B121

Wire

ASTM B121

Rod

ASTM B453

Ingot

ASTM B121
Fabrication:

Joining Technique

Suitability

Soldering

Excellent

Brazing

Good

Oxyacetylene Welding

Not Recommended

Gas Shielded Arc Welding

Not Recommended

Coated Metal Arc Welding

Not Recommended

Spot Weld

Not Recommended

Seam Weld

Not Recommended

Butt Weld

Fair

Capacity for Being Cold Worked

Fair

Capacity for Being Hot Formed

Poor

Machinability Rating

90
Physical Properties:

Product Property

US Customary

Metric

Melting Point - Liquidus

1670 F

910 C

Melting Point - Solidus

1630 F

888 C

Density

0.306 lb/in3 at 68 F

8.47 gm/cm3 @ 20 C

Specific Gravity

8.47

8.47

Electrical Resistivity

39.90 ohms-cmil/ft @ 68 F

6.63 microhm-cm @ 20 C

Electrical Conductivity

26 %IACS @ 68 F

0.152 MegaSiemens/cm @ 20 C

Thermal Conductivity

67 Btu ? ft/(hr ft2?oF)at 68F

116.0 W/m oK at 20 C

Coefficient of Thermal Expansion

11.30 ?10-6 per oF (68-572 F)

20.3 ?10-6 per oC (20-300 C)

Modulas of Elasticity in Tension

15000 ksi

103400 MPa

Modulus of Rigidity

5600 ksi

38610 MPa
Sizes Available

WIRE

1mm TO 8 mm

HOLLOW RODS

Min Bore Size 20 mm and Max OD 100 mm

ROUND RODS

6mm To 130 mm

HEX

5mm To 60mm

SQUARE

4mm To 60mm

FLAT

5mm Min Thickness and max Width 120mm

PROFILES / SECTIONS

AS per Customer Drawing

BILLETS

Up to 200mm

INGOTS

AS per Specification