C16200 Cadmium Copper Rod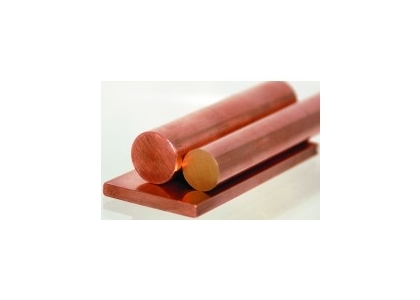 C16200 Cadmium Copper Rod
Price And Quantity
Kilograms/Kilograms

1000 INR
Product Description
We feel delighted to introduce ourselves as the foremost manufacturer, exporter and supplier of premium gamut of C16200 Cadmium Copper. This copper is widely used in various industries for the manufacturing variety of components like bushings, bearing, etc. It is manufactured in line with international quality standards using superlative quality metal alloy and advanced manufacturing techniques. We offer this C16200 Cadmium Copper to the customers in different lengths, finishes and thicknesses at competitive rates.

Features:

Corrosion resistance

Robustness

Sturdiness

Excellent finish
C16200 Cadmium Copper
The C16200 Cadmium Copper alloy is suitable for industrial applications where high electrical conductivity and high tensile strength is required. The alloy is the combination of 99.0% copper and 1.0% cadmium that results in these incompatible properties.
Applications:
Electrical Industry : Resistance Welding Electrodes, Circuit Breaker Switches, Stud Bases for Power Transmitters, Electrical Conductor Material
Consumer : Rod Extensions, Pencil-type, Light Soldering Guns, Tips
Industrial : Connectors, Solderless Wrapped, Welding Wheels, Trolley Wires
Specifications:

Product Type

Temper Type

Bar

SAE J461, J463

Forgings

SAE J461, J463

Rod

SAE J461, J463

Wire

AMS B624, B105 Military MIL-W-82598
Chemical Composition:

Al

Be

Cd

Cu

Fe

Min/Max

-

-

01/07/02

Rem

0.02

Nominals

-

-

1

99

-
Fabrication:

Joining Technique

Suitability

Brazing

Excellent

Butt Weld

Good

Capacity for Being Cold Worked

Excellent

Capacity for Being Hot Formed

Good

Coated Metal Arc Welding

Not Recommended

Gas Sheilded Arc Welding

Good

Machinability rating

20

Oxyacetylene Welding

Good

Seam Weld

Not Recommended

Soldering

Excellent

Spot Weld

Not Recommended
Physical Properties:

Product Property

US Customary

Metric

Melting Point - Liquidus

1969 F

1076 C

Melting Point - Solidus

1886 F

1030 C

Density

0.321 lb/in at 68 F

8.89 gm/cm @ 20 C

Specific Gravity

8.89

8.89

Electrical Resistivity

11.50 ohms-cmil/ft @ 68 F

1.91 microhm-cm @ 20 C

Electrical Conductivity

90 % IACS @ 68 F

0.527 MegaSiemens/cm @ 20 C

Thermal Conductivity

208 Btu ft/(hr ft2oF)at 68F

360.0 W/m oK at 20 C

Modulas of Elasticity in Tension

17000 ksi

117000 MPa

Modulus of Rigidity

6400 ksi

44130 MPa

Specific Heat Capacity

0.090 Btu/lb/F at 68 F

377.1 J/kg K at 293 K
Sizes Available:

HOLLOW RODS

Min Bore Size 20 mm and Max OD 100 mm

ROUND RODS

8mm To 100 mm

HEX

10mm To 60mm

SQUARE

10mm To 60mm

FLAT

10mm Min Thickness and max Width 120mm

BILLETS

Up to 200 mm

INGOTS

As per Specification