C27000 Yellow Brass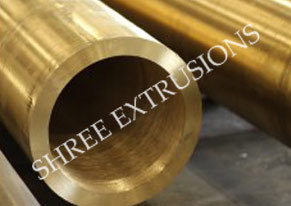 C27000 Yellow Brass
Price And Quantity
, Kilograms/Kilograms

350.00 - 550.00 INR
Product Description
Assisted by a assiduous crew and modern manufacturing set up, our firm is affianced in providing superb quality gamut of C27000 Yellow Brass. It is extensively demanded in various industries for manufacturing components like busghing, casting, fastener and many more. The provided brass is manufactured by our skilled professionals using superior grade metal alloy and progressive techniques in line with set international quality standards. Offered C27000 Yellow Brass is made available in different specifications at cost-effecting prices.

Features:

C27000 Yellow Brass "65%"

ASTM B134
Hot-forms more readily and is stronger than C26000.
Applications :
Architecture: Handrails, Grillwork
Automotive: Tanks, Radiator Cores
Builders Hardware:Push Plates, Finish Hardware, Hinges, Stencils, Kick Plates, Locks
Electrical:Socket Shells, Screw Shells, Reflectors, Lamp Fixtures, Flashlight Shells
Equivelent Specifications:

Specifications

Designation

ISO

CuZn35

Europen

CuZn35

BS

CZ 107

JIS

C 2700
Chemical Composition:




Cu

Fe

Pb

Zn

Min/Max

63.0 - 68.5

0.07

0.09

Rem

Nominals

65

-

-

35
Specifications

Product

Specification

Bolt

ASTM F468

Nuts

ASTM F467

Rod

SAE J463, J461

Screws

ASTM F468

Studs

ASTM F468

Tube

ASTM B135

Tube, Welded

ASTM B587

Wire

AMS 4712, 4713, ASTM B134, SAE J463, J461

Wire, Tinned

AMS 4710
Fabrication:

Joining Technique

Suitability

Brazing

Excellent

Butt Weld

Good

Capacity for Being Cold Worked

Excellent

Capacity for Being Hot Formed

Fair

Coated Metal Arc Welding

Not Recommended

Gas Sheilded Arc Welding

Good

Machinability rating

30

Oxyacetylene Welding

Good

Seam Weld

Not Recommended

Soldering

Excellent

Spot Weld

Fair
Physical Properties

Product Property

US Customary

Metric

Coefficient of Thermal Expansion

11.3 10-6 per oF (68-572 F)

20.3 10 6? per C (20-300 C)

Density

0.306 lb/in3 @ 68 F

8.47 gm/cm3 @ 20 C

Electrical Conductivity

27 %IACS @ 68 F

0.158 MegaSiemens/cm @ 20 C

Electrical Resistivity

38.4 ohms-cmil/ft @ 68 F

6.38 microhm-cm @ 20 C

Melting Point Liquid US

1710 F

932 C

Melting Point Solid US

1660 F

904 C

Modulas of Elasticity in Tension

15000 ksi

103400 MPa

Modulas of Rigidity

5600 ksi

38610 Mpa

Specific Gravity

8.47

8.47

Specific Heat Capacity

0.09 Btu/lb/F @ 68 F

377.1 J/kg K at 293 K

Thermal Conductivity

67.0 Btu ft/(hr ft2F) @ 68 F

116.0 W/m K at 20 C
Sizes Available

WIRE

1mm TO 8 mm

HOLLOW RODS

Min Bore Size 20 mm and Max OD 100 mm

ROUND RODS

6mm To 130 mm

HEX

5mm To 60mm

SQUARE

4mm To 60mm

FLAT

5mm Min Thickness and max Width 120mm

PROFILES / SECTIONS

AS per Customer Drawing

BILLETS

Up to 200mm

INGOTS

AS per Specification