C36000 Free Machining Brass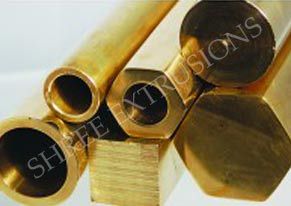 C36000 Free Machining Brass
Price And Quantity
Kilograms/Kilograms,

450.00 - 500.00 INR
Product Description
We are a desirable manufacturer, exporter and supplier of superlative quality gamut of C36000 Free Machining Brass that is suitable for various architectural products, industrial components and many more. Widely appreciated due to its ruggedness, this brass is made available for clients in different lengths and thicknesses to meet the wide requirements of clients. The offered brass is manufactured using top-notch grade copper and zinc under the stern vigilance of skilled our professional. Further, the offered C36000 Free Machining Brass can be purchased from us at cost-effecting prices.

Features:

Robustness

Corrosion resistance

Perfect finish

Durable
C36000 Free Machining Brass
C36000 Free Machining Brass is also called Free Cutting Brass. The brass is appreciated for features such as knurling, thread rolling and good machining ability. It is deal for high machining operations with the rating of 100 against all the rated copper alloys. The offered brass can easily be brazed or soldered and is also corrosion resistant.
Applications :
Construction Industry: Builders Hardware, Lock Bodies, Hardware, Fittings
Consumer: Hot Combs (to Straighten Hair)
Fasteners: Bolts, Nuts, Screws
Industrial: Faucet Components, Pneumatic Fittings, Fluid Connectors, Automatic Screw Machine Parts, Unions, Adapters, Screw Machine Products, Gauges, Valve Seats, Valve Trim, Valve Stems, Nozzles, Pinions, Gears
Plumbing: Plumbers' Brass Goods, Faucet Stems, Faucet Seats, Plumbing Fittings
Equivalent Specifications:

Specifications

Designation

ISO

CuZn36Pb3

Europen

CuZn36Pb3

JIS

CZ-124

Russian

LS63-3
Chemical Composition:




Cu

Fe

Pb

Zn

Min/Max

60.0 - 63.0

0.35

2.5 - 3.7

Rem

Nominals

61.5

-

3.1

35.4
Specifications:

End Product

Specification

Bar

AMS 4610, ASTM B16, SAE J461, J463

Rod

AMS 4610, ASTM B16, SAE J461, J463

Shapes

ASTM B16, SAE J461, J463

Valves

MILITARY MIL-V-18436

Wire

ASTM B16
Fabrication:

Joining Technique

Suitability

Brazing

Good

Butt Weld

Fair

Capacity for Being Cold Worked

Fair

Capacity for Being Hot Formed

Fair

Coated Metal Arc Welding

Not Recommended

Gas Sheilded Arc Welding

Not Recommended

Machinability rating

100

Oxyacetylene Welding

Not Recommended

Seam Weld

Not Recommended

Soldering

Excellent

Spot Weld

Not Recommended
Physical Properties:

Product Property

US Customary

Metric

Coefficient of Thermal Expansion

11.4 10-6 per oF (68-572 F)

20.5C (20-300 C)

Density

0.307 lb/in3 @ 68 F

8.5 gm/cm3 @ 20 C

Electrical Conductivity

26 %IACS @ 68 F

0.152 MegaSiemens/cm @ 20 C

Electrical Resistivity

39.9 ohms-cmil/ft @ 68 F

6.63 microhm-cm @ 20 C

Melting Point Liquid US

1650 F

899 C

Melting Point Solid US

1630 F

888 C

Modulas of Elasticity in Tension

14000 ksi

96500 MPa

Modulas of Rigidity

5300 ksi

36500 MPa

Specific Gravity

8.5

8.5

Thermal Conductivity

67.0 Btu ft2 F) @ 68 F

116.0 W/m K at 20 C
Sizes Available

WIRE

1mm TO 8 mm

HOLLOW RODS

Min Bore Size 20 mm and Max OD 100 mm

ROUND RODS

6mm To 130 mm

HEX

5mm To 60mm

SQUARE

4mm To 60mm

FLAT

5mm Min Thickness and max Width 120mm

PROFILES / SECTIONS

AS per Customer Drawing

BILLETS

Up to 200mm

INGOTS

AS per Specification