C48200 Naval Brass Rod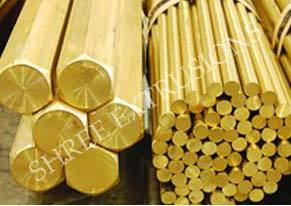 C48200 Naval Brass Rod
Price And Quantity
, Kilograms/Kilograms

350.00 - 450.00 INR
Product Description
C48200 Naval Brass "Medium Lead"
The medium leaded naval brass is used for common fabrication process mainly for marine equipment or the things that is used with water in contact. It is a hard and corrosion resistant material used for both fresh or salt water applications.

Applications :
Marine Hardware
Screw Machine Products
Valve Stems.
Common Fabrication Processes
Hot Forging, Pressing And Machining.
Typical Uses :
Marine hardware, screw machine products, valve stems.
Common Fabrication Processes
Hot forging, pressing and machining.
Equivelent Specifications:

Specifications

Designation

ISO

CuZn37pb1Sn1

Europen

CuZn37pb1Sn1

Czech Republic

CuZn37pb1Sn1

Portugal

CuZn37pb1Sn1
Chemical Composition:




Cu

Fe

Pb

Sn

Zn

Min/Max

59.0-62.0

0.1

40-1.0

0.50-1.0

Rem

Nominals

61.5

-

0.7

8

38
Applicable Specifications

Product

Specification

Bar

ASTM B21 FEDERAL QQ-B-639

Bar, Forging

ASTM B124

Forgings, Die

ASTM B283

Plate

FEDERAL QQ-B-639

Rod

ASTM B21

Rod, Forging

ASTM B124

Shapes

ASTM B21

Shapes, Forging

ASTM B124

Sheet

FEDERAL QQ-B-639

Strip

FEDERAL QQ-B-639
Fabrication Properties

Joining Technique

Suitability

Soldering

Excellent

Brazing

Good

Oxyacetylene Welding

Not Recommended

Gas Shielded Arc Welding

Not Recommended

Coated Metal Arc Welding

Not Recommended

Spot Weld

Not Recommended

Seam Weld

Not Recommended

Butt Weld

Fair

Capacity for Being Cold Worked

Poor

Capacity for Being Hot Formed

Good

Forgeability Rating

90

Machinability Rating

50
Sizes Available:

Hollow Rods

Min Bore Size 20 mm and Max OD 100 mm

Round Rods

6mm To 130 mm

Hex

5mm To 60mm

Square

4mm To 60mm

Flat

5mm Min Thickness and max Width 120mm

Profiles / Sections

AS per Customer Drawing

Billets

Up to 200 mm

Ingots

AS per Specification