C64200 Silicon Aluminum Bronze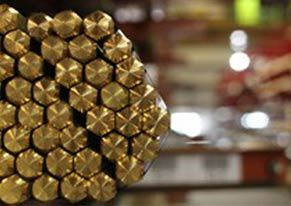 C64200 Silicon Aluminum Bronze
Price And Quantity
, Kilograms/Kilograms

450.00 - 500.00 INR
Product Description
Empowered by immense experience in this domain, we are engaged in manufacturing, exporting and supplying supreme quality assortment of C64200 Silicon Aluminum Bronze. Available in various lengths and finishes, this bronze is suitable for making fitting components, electrical components, automotive parts and many more. Provided bronze is manufactured using the finest quality aluminum and copper as per international industry standards. Clients can avail this C64200 Silicon Aluminum Bronze from us at industry leading prices.

Features:

Fine finish


Corrosion resistance

Good ductility


Excellent weldability

C64200 Silicon Aluminum Bronze
ASTM B249, QQ-C-465, AMS 4631, AMS 4634, EU Designation: CuAl7Si2, CW302G
The C64200 silicone aluminum alloy is an engineering alloy which is resistant to corrosion as copper and is much stronger. Is is manufactured in round, hexagonal and octagonal rods for hot forming and free machining. It is considered as best valve stem alloy and its other applications include gears, marine hardware, nuts, pole line hardware, and valve bodies and components.
Typical Uses :
Automotive : Valve Guides, Automobile Engine
Electrical: Pole Line Hardware
Fasteners: Bolts, Nuts
Industrial: Valve Components, Valve Bodies, Gears, Valve Stems, Cams
Marine: Hardware
Equivelent Specifications:

Specifications

Designation

ISO

CuAl7Si2

European

CuAl7Si2

UNS

C64210
Chemical Composition:

Al

As

Cu

Fe

Pb

Mn

Ni

Si

Sn

Zn

Min/Max

6.3 - 7.6

0.15

Rem

0.3

0.05

0.1

0.25

1.5 - 2.2

0.2

0.5

Nominals

7

-

91.2

-

-

-

-

1.8

-

-
Specifications :

End Product

Specification

Bar

AMS 4631, ASME SB150, ASTM B150

Bar, Forging

ASTM B124

Bolts

ASTM F468

Forgings, Die

AMS 4631, ASME SB283, ASTM B283

Nuts

ASTM F467

Rod

AMS 4631, ASME SB150, ASTM B150, SAE J463, J461

Rod, Forging

ASTM B124

Screws

ASTM F468

Shapes

ASTM B150

Shapes, Forging

ASTM B124

Studs

ASTM F468
Fabrication :

Joining Technique

Suitability

Brazing

Fair

Butt Weld

Fair

Capacity for Being Cold Worked

Poor

Capacity for Being Hot Formed

Excellent

Coated Metal Arc Welding

Fair

Gas Shielded Arc Welding

Fair

Machinability Rating

80

Oxyacetylene Welding

Not Recommended

Seam Weld

Fair

Soldering

Not Recommended

Spot Weld

Fair
Physical Properties :

Product Property

US Customary

Metric

Coefficient of Thermal Expansion

10.0 10-6 per oF (68-572 F)

18.0 10-6 per oC (20-300 C)

Density

0.278 lb/in3 at 68 F

7.7 gm/cm3 @ 20 C

Electrical Conductivity

8 %IACS @ 68 F

0.047 MegaSiemens/cm @ 20 C

Electrical Resistivity

113.0 ohms-cmil/ft @ 68 F

18.79 microhm-cm @ 20 C

Melting Point - Liquidus

1840 F

1004 C

Melting Point - Solidus

1800 F

982 C

Modulas of Elasticity in Tension

16000 ksi

110000 MPa

Modulus of Rigidity

6000 ksi

41370 MPa

Specific Gravity

7.69

7.69

Specific Heat Capacity

0.09 Btu/lb/oF at 68F

377.1 J/kg K at 293 K

Thermal Conductivity

26.0 Btu ft/(hr ft2oF)at 68F

45.0 W/m oK at 20 C
Sizes Available:

ROUND RODS

8mm To 70 mm

HEX

10mm To 60mm

SQUARE

10mm To 60mm

FLAT

10mm Min Thickness and max Width 120mm

BILLETS

Up to 200 mm

INGOTS

As per Specification