C65100 Low Silicon Bronze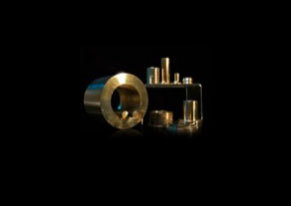 C65100 Low Silicon Bronze
Price And Quantity
, Kilograms/Kilograms

450.00 - 500.00 INR
Product Description
Backed with experienced team of technocrats, we manufacture, export and supply a wide gamut of C65100 Low Silicon Bronze. The provided product is widely used in various industries for manufacturing variety of components. The offered product is manufactured by our trained team of professionals using utmost quality metal alloys, this product is also tested on set quality parameters to enhanced their flawlessness. Available in various specifications to meet the wide requirements of clients, this C65100 Low Silicon Bronze is made available at competitive rates.

Features:

Robustly constructed

High strength

Dimensional accuracy

Corrosion resistance
C65100 Low Silicon Bronze
C65100 is an engineering alloy resistant to corrosion as copper itself, but much stronger, and with good fatigue endurance. The alloy is appreciated for its brazing ability, strength, corrosion resistance and electrical properties and serves as one of the most weldable copper alloys. The alloy can be joined by using resistance welding, soldering or brazing. The alloy is joined by gas shield arc welding, spot welding and also by oxyacetylene welding.
Typical Uses :
Electrical: Conduit, Pole Line Hardware, Motor, Rotor Bars
Fasteners: Bolts, Cable Clamps, Cap Screws, Machine Screws, Nuts, Rivets, U Bolts, Fasteners, Screws
Industrial: Oil Refinery Plumbing Tube, Heat Exchanger Tube, Welding Rod, Hydraulic Pressure Lines
Marine: Hardware
Equivelent Specifications:

Specifications

Designation

ISO

CuSi1

European

CuSi1

Czech Republic

CuSi1
Chemical Composition:

Cu

Fe

Pb

Mn

Si

Zn

Min/Max

Rem

0.8

0.05

0.7

0.80 - 2.0

1.5

Nominals

98.5

-

-

-

1.5

-
Specifications:

End Product

Specification

Bar

ASME SB98, ASTM B98

Bolts

ASTM F468

Nuts

ASTM F467

Pipe

ASTM B315

Plate

ASTM B96

Plate, Clad

ASTM B432

Rod

ASME SB98, ASTM B98

Screws

ASTM F468

Shapes

ASME SB98, ASTM B98

Sheet

ASTM B96

Strip

ASTM B96

Studs

ASTM F468

Tube

ASTM B315

Wire

ASTM B99, B105
Fabrication:

Joining Technique

Suitability

Brazing

Excellent

Butt Weld

Excellent

Capacity for Being Cold Worked

Excellent

Capacity for Being Hot Formed

Excellent

Coated Metal Arc Welding

Fair

Gas Shielded Arc Welding

Excellent

Machinability Rating

30

Oxyacetylene Welding

Good

Seam Weld

Good

Soldering

Excellent

Spot Weld

Excellent
Physical Properties:

Product Property

US Customary

Metric

Coefficient of Thermal Expansion

9.9 10-6 per oF (68-212 F)

17.8 10-6 per oC (20-100 C)

Density

0.316 lb/in3 at 68 F

8.75 gm/cm3 @ 20 C

Electrical Conductivity

12 %ACS @ 68 F

0.07 MegaSiemens/cm @ 20 C

Electrical Resistivity

86.4 ohms-cmil/ft @ 68 F

14.36 microhm-cm @ 20 C

Melting Point - Liquidus

1940 F

1060 C

Melting Point - Solidus

1890 F

1032 C

Modulas of Elasticity in Tension

17000 ksi

117000 MPa

Modulus of Rigidity

6400 ksi

44130 MPa

Specific Gravity

8.75

8.75

Specific Heat Capacity

0.09 Btu/lb/oF at 68 F

377.1 J/kg oK at 293 K

Thermal Conductivity

33.0 Btu ft2oF)at 68F

57.1 W/m oK at 20 C
Sizes Available

ROUND RODS/BARS

8mm To 70 mm

HEX

10mm To 60mm

SQUARE

10mm To 60mm

FLAT

10mm Min Thickness and max Width 120mm

BILLETS

Up to 200 mm

INGOTS

As per Specification