C65500 High Silicon Bronze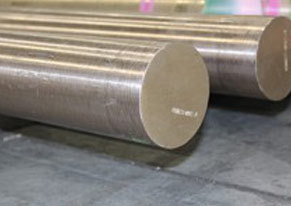 C65500 High Silicon Bronze
Price And Quantity
, Kilograms/Kilograms

450.00 - 520.00 INR
Product Description
Relying on our high-tech manufacturing set up, we are offering superlative quality gamut of C65500 High Silicon Bronze. The provided bronze is widely demanded in different industries for manufacturing pole-line hardware, nuts, bolts, screws and many more. The offered bronze is manufactured by our skilled professionals using utmost quality metal ally and progressive manufacturing techniques in tandem with set international quality standards. This C65500 High Silicon Bronze is made available in different finishes, dimensions and thicknesses as per clients' requirement at market leading rates.

Features:

High tensile strength

Dimensional accuracy

Corrosion resistance

Excellent hardness
C65500 High Silicon Bronze "A"
ASTM B96, ASTM B248, ASTM B98
The silicon bronze C65500 is a high strength, engineering alloy with having resistance against corrosion from fresh and salt water, acids, alkalies, salts and organic chemicals. The alloy is not suitable to be used with sulfides, nitric acid, acid chromates or oxidizing salts such as ferric chloride. The alloy possess strength, resilience and formability and is non-sparking, galling resistant and fatigue resistant.
The applications of C65500 include electrical conduit, pump shafts, valve stems, tie rods, fasteners, marine and pole-line hardware, nuts, bolts, screws, rivets, nails, bushings, screen cloth and wire.
Typical Uses :
Electrical: Sculptures,Electrical,Pole Line Hardware,Motors,Rotor Bar
Fasteners: Screws,Rivets,Burrs,Nuts,Nails,Cotter Pins,Clamps,Bolts,Hinges
Industrial: Screen Cloth,Wear Plates,Screen Plates,Shafting,Wire,Welded Pressure Vessels,Oil Refinery Plumbing Tube,Bearing Plates,Butts
Marine: Vessel Hardware ,Propeller Shaft
Equivelent Specifications:

Specifications

Designation

ISO

CuSi3Mn1

European

CuSi3Mn1

BS

CS 101

Russian

BrKMo3-1
Chemical Composition:

Cu

Fe

Pb

Mn

Ni

Si

Zn

Min/Max

Rem

0.8

0.05

0.50 - 1.3

0.6

2.8 - 3.8

1.5

Nominals

97

-

-

0.9




3

-
Specifications:

End Product

Specification

Bar

SAE J463, J461

Bar, Forging

ASTM B124

Bar, Rolled, Pressure Vessels

ASME SB96, ASTM B96

Bolts

ASTM F468

Forgings, Die

ASTM B283

Nuts

ASTM F467

Pipe

ASME SB315, ASTM B315

Plate

ASME SB96, ASTM B96

Plate, Bridge and Bearing

ASTM B100

Plate, Clad

ASTM B432

Plate, Pressure Vessels

ASME SB96, ASTM B96

Rod

ASME SB98, ASTM B98, SAE J461, J463

Rod, Forging

ASTM B124

Screws

ASTM F468

Shapes

ASME SB98, ASTM B98, SAE J461, J463

Shapes, Forging

ASTM B124

Sheet

ASME SB96, ASTM B96, SAE J461, J463

Sheet, Bridge and Bearing

ASTM B100

Sheet, Pressure Vessels

ASME SB96, ASTM B96

Strip

ASME SB96, ASTM B96, SAE J461, J463

Studs

ASTM F468

Tube

ASME SB315, ASTM B315, MILITARY MIL-T-8231

Wire

ASTM B105, B99
Fabrication:

Joining Technique

Suitability

Brazing

Excellent

Butt Weld

Excellent

Capacity for Being Cold Worked

Excellent

Capacity for Being Hot Formed

Excellent

Coated Metal Arc Welding

Fair

Forgeability Rating

40

Gas Shielded Arc Welding

Excellent

Machinability Rating

30

Oxyacetylene Welding

Good

Seam Weld

Excellent

Soldering

Good

Spot Weld

Excellent
Physical Properties:

Product Property

US Customary

Metric

Coefficient of Thermal Expansion

10.0 10-6 per oF (68-212 F)

18.0 10-6 per oC (20-100 C)

Density

0.308 lb/in3 at 68 F

8.53 gm/cm3 @ 20 C

Electrical Conductivity

7 %IACS @ 68 F

0.041 MegaSiemens/cm @ 20 C

Electrical Resistivity

148.0 ohms-cmil/ft @ 68 F

24.6 microhm-cm @ 20 C

Melting Point - Liquidus

1880 F

1027 C

Melting Point - Solidus

1780 F

971 C

Modulas of Elasticity in Tension

15000 ksi

103400 MPa

Modulus of Rigidity

5600 ksi

38610 MPa

Specific Gravity

8.53

8.53

Specific Heat Capacity

0.09 Btu/lb/oF at 68 F

377.1 J/kg oK at 293 K

Thermal Conductivity

21.0.0 Btu ft2oF)at 68F

36.3 W/m oK at 20 C
Sizes Available

ROUND RODS

8mm To 70 mm

HEX

10mm To 60mm

SQUARE

10mm To 60mm

FLAT

10mm Min Thickness and max Width 120mm

BILLETS

Up to 200 mm

INGOTS

As per Specification